Timothy Taylor's Hopical Storm received a gold medal for design and packaging at the International Beer Challenge 2023 and was then named World's Best Can Design at the World Beer Awards 2023. The awards are particularly significant as Hopical Storm was the Keighley brewers first ever release in a can.
Timothy Taylor's Hopical Storm, a 4% triple-hopped sessionable pale ale, was recently launched in can to provide an additional packaging format that suited the brand and widened the appeal and availability to a younger, legal drinking-age audience.
Announcing the awards, Timothy Taylor's Chief Executive Tim Dewey said "Having successfully launched Hopical Storm to pubs and restaurants in keg, we knew that cans were a logical extension to our range. Not only would they provide an option for venues without the cellar space or rate of sale required for serving draught beers but would also enable customers to enjoy this refreshing triple-hopped pale ale away from bars, wherever they are and whatever the occasion."
The Hopical Storm 440ml aluminium cans feature distinctive orange branding that characterises the burst of fruit aroma and flavours of the beer, with a cut-out silver lightning flash symbolising Hopical Storm's ability to strike thirst. The multi award-winning design was developed by Springetts Brand Design in conjunction with the Timothy Taylor's in-house marketing team of Jane Jenkins and Scott Cameron and the can labels printed by Reflex Label Plus, who used their expertise to include tactile varnishing, lending to an enhanced ergonomic feel.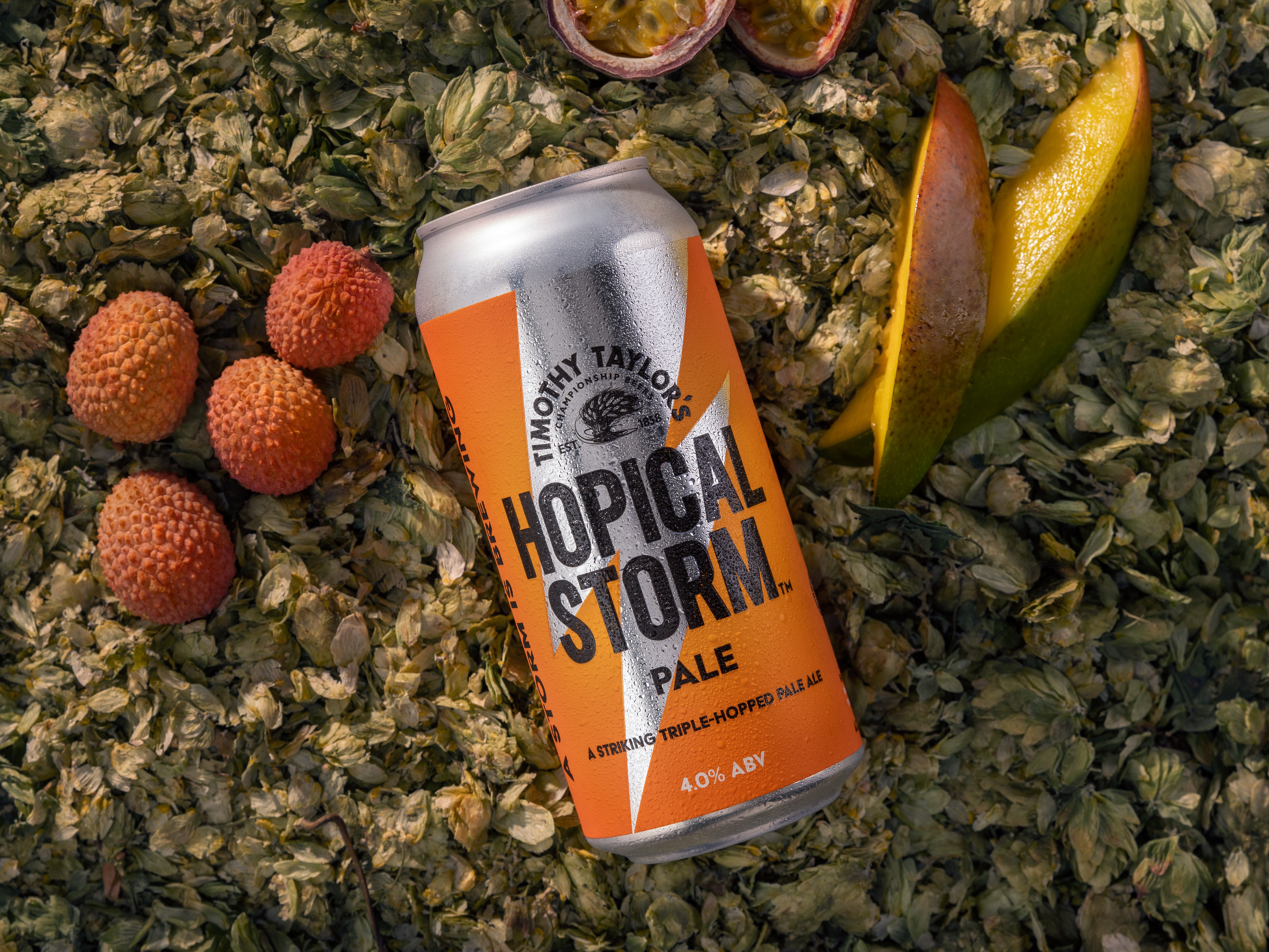 "Timothy Taylor's is an independent business that is committed to brewing quality beers" added Dewey "and the mandarin, mango, and passion fruit of Hopical Storm unleashes a tropical cyclone of refreshment that strikes thirst. It is a characterful twist on the tradition associated with Timothy Taylor's and the can design needed to reflect this new approach for a brewery that was established in 1858. The attention to detail combines the vibrant, tropical colour and a lightning strike, with the depiction of the famous Timothy Taylor's barley sheaf also updated to show it being buffeted by a strong wind to create the perfect Hopical Storm.
"At 4% ABV Hopical Storm is more accessible than higher ABV beers in the category and has gained widespread distribution and positive tasting reviews. For the can to now be recognised by the International Beer Challenge and receiving the accolade of World's Best Can Design at the World Beer Awards is the crowning glory and ultimate accolade for everybody who has worked so hard on development of the beer and how it is presented."
Hopical Storm is brewed using five UK-grown hops in three stages of hopping - Cascade and Whitbread Goldings in the copper, Cascade and Chinook at the hop back stage, then dry-hopped with Jester and Ernest. Combined with Timothy Taylor's natural Knowle Spring water, fine barley malts and the unique Taylor's Taste yeast to create the tropical storm of flavour and aroma. Hopical Storm is notable for its pale golden appearance and clarity and is vegan-friendly, wearing the distinctive Vegan Trademark and certified by The Vegan Society. Timothy Taylor's Hopical Storm was also recognised with a silver medal in the taste category at the International Beer Challenge.
The can has secured listings in selected Morrisons, Sainsbury's, Booths, and Waitrose stores and has had a full calendar of marketing activity over the summer including print and digital advertising. It also had presence at events including BrewLDN, the Yorkshire Dales Food & Drink Festival, Bloodstock Open Air, and as one of the brands poured by Timothy Taylor's as the official beer partner of CarFest, where the award-winning cans were also enjoyed across all the festival's bars.