2022 marked the 150th anniversary of Keighley-based Stell Cardboard Tubes. Stell has been a respected fixture in the Keighley business landscape since the company was founded by John Stell in 1872, making the business a mere 14 years younger than our own brewery.
Sam Stell, a current director, owns the business along with his brother Henry and father Vaughan. Sam is the fifth generation of the Stell family to run the business. Today the company has over 100 local employees, many with over 25 years' service, including a number of father and son and husband and wife combinations – further evidence of the important "family" culture that has been carefully built and nurtured over the years. An ethos that we share, with Timothy Taylor's being in the Taylor family for over 160 years.
"We've come a long way over the last 150 years and are proud of the way we have kept at the forefront of the UK's cardboard tube manufacturing industry. However, we pride ourselves even more on how we have remained an innovator and market leader for what we do." commented Sam.
For over 100 years the business was located at Holme Mills, off Fell Lane, before moving in 2015 to its current, purpose-built, 100,000 square-foot premises on Royd Ings Avenue opposite the Keighley Cougars (where both they and we are proud sponsors).
Reflecting the progressive approach taken to its business operations Stell has invested heavily in the latest tube manufacturing equipment. Mindful of the environment, recycling is prominent and Stell has adopted a range of sustainable power technologies including a biomass boiler and solar power.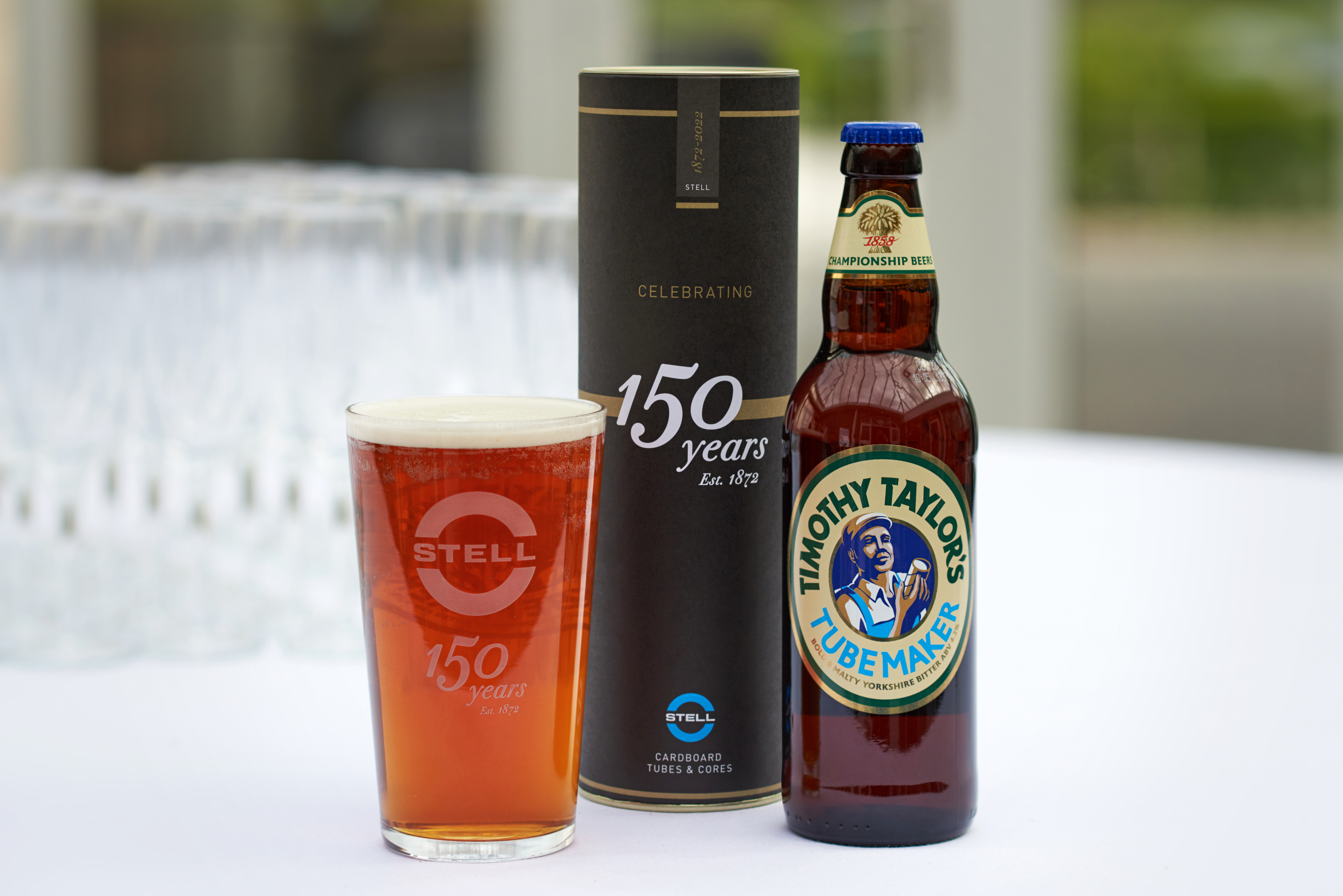 To celebrate Stell's 150th anniversary, and as a fellow family-owned business with a history in Keighley, they contacted us to help produce something special for them. So, in honour of Stell, we decided to give our award-winning Boltmaker a name and costume change to become Tubemaker. Custom bottles, glassware and a one-of-a-kind pump clip were produced to mark the occasion, with each employee able to take their bottle home as a keepsake of the milestone year.
Scott Cameron, Senior Brand Manager at the brewery said: "As a family-owned, Keighley-based business with a heritage spanning over 150 years, we share a lot in common with Stell. Therefore we were honoured to be able to help them celebrate such an important year in their history, and long may they continue bringing success to our hometown."
Employees recently attended a celebration reception and dinner at the Coniston Hotel where employee Dave Wilson received his 50-year long-service award from Managing Director Lee Skelton. The company is looking to recruit more employees and runs its own apprenticeship scheme in conjunction with Keighley College.
"We're always looking to expand the Stell 'family' with the right employees to help us take Stell forward successfully for another 150 years", concluded Lee Skelton.